Dr. Anthony Freire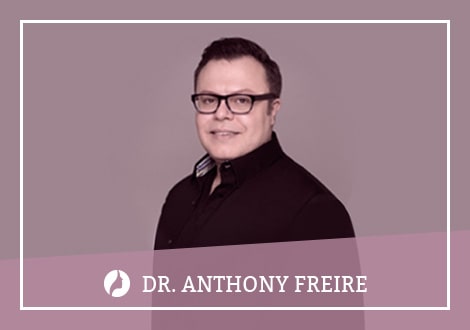 Psychotherapist
Biography
Anthony Freire, LMHC, NCC, CCMHC is an Adjunct Professor in Applied Psychology at New York University and is a Board-Certified Clinical Mental Health Counselor Licensed by the State Of New York. His is the Co-founder of The Soho Center for Mental Health Counseling in New York City.
Anthony Freire is considered to be the mental health professional equivalent of a primary care physician, treating adults, minors (ages 5-18), couples, families and groups. He received both his BA in Psychology and Master's in Mental Health Counseling from New York University, where he is now teaching the next generation of therapists to excel beyond the gold standard of care. He is also a group relations consultant and Trauma informed care expert. He manages/trains/and supervises a large team of counselors waiting to help you become your best self. Anthony's expertise lies in the relationship he forms with you to help you understand how you perceive the world, your role in it, and how others perceive you. All three can be vastly different, and Anthony helps you to reconcile those three things through honesty, compassion, and data that you can use to make decisions around making life changes. Creating a safe place to discover who you are is what helps us examine your feelings and behaviors and make changes so that you can attain the goals you want.
Compassionate and caring yet challenging, Anthony Freire, MA, LMHC, NCC, CCMHC, founded the Soho Center for Mental Health Counseling & Clinical Supervision in New York City and works as a licensed psychotherapist and clinical director and supervisor.
Anthony's specialties include trauma-informed care, psychological trauma, anxiety, depression, and post-traumatic stress disorder. He also provides counseling for other issues such as addiction, marriage difficulties, and relationships and organizational counseling.
Anthony earned his undergraduate and graduate degrees from New York University and completed his residency at Christ Hospital in Jersey City, New Jersey. In 2015, he received his Certificate in Advanced Clinical Practice from NYU's School of Social Work. Anthony is a member of the American Counseling Association and the New York Center for the Study of Groups, Organizations, and Social Systems.
Anthony's approach includes working with patients to identify and improve negative behavior or negative beliefs about the self. He works with his diverse clientele to improve their relationship with themselves and others to live fulfilling lives.
At the Soho Center for Mental Health Counseling & Clinical Supervision, the staff utilizes a team approach to individual care. Patients see their own therapists, but the entire team works together to help you achieve your goals.
Specialties
Practice names
Education and training
New York University, Masters in Counseling for Mental Health and Wellness
New York University, Bachelors in Psychology
New York University, Certificate in Advanced Clinical Practice
New York University (HIV Prevention and Counseling)
Christ Hospital (Residency)
Awards and publications
New York University Clinical Service Award (2011)
Grossman, A. H., Frank, J. A., & Freire, A. (2010). Sexual non-minority and sexual minority youth: Identity development, mental, health, and risky recreational sex behaviors. Annals of Leisure and Recreation Research.
Languages spoken
Provider's gender
Anthony Freire's office location
The SoHo Center for Mental Health Counseling
Bleecker Street
159 Bleecker Street, #2C
New York, NY 10012